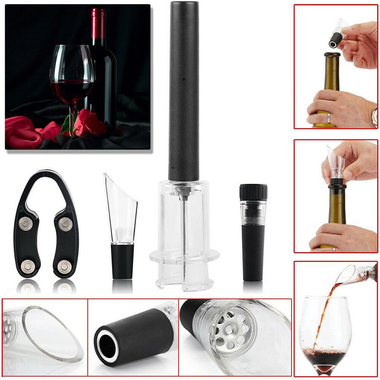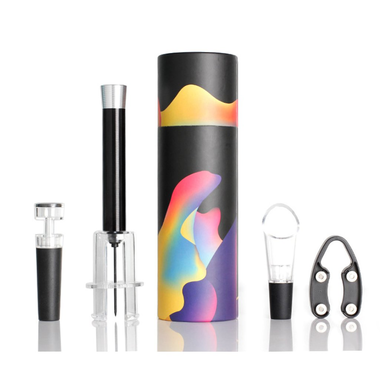 Description
Become a bartender for the day and celebrate with friends with this 4 in 1 Set that will help you open the wine bottle in seconds without the broken cork floating in the wine; spoiling your mood, the wine, and its taste! First, cut the foil smoothly with the foil cutter, then just push the air wine pump into the bottle, its sharp needle will get into the cork easily without causing any harm to you… Now press it down through the cork 2/3 times, this will get the air under the cork and push the cork right out… Push the cork down by the ring to squeeze the cork out… Now just insert the aerator and pour the wine directly into the glass to enjoy it right away…! Last but not least, insert the wine stopper into the bottle, give it a push and you will see it's button will pop right up to ensure your bottle is now sealed airtight, so you can enjoy the remaining of your favorite wine up to 2/3 weeks, without losing its fruity notes and flavors…!
Say Cheers to the Pour And Preserve set and have a Cheerful Spirit! It's a unique and top-notch gift your friends will appreciate for years to come! Details: This 4 pc set includes a foil cutter, air wine pump, wine aerator, and a wine stopper. An anti-slip and a very safe needle is Stainless Steel with Teflon coating, with the handle that is made of the high-quality aluminum alloy material.
The set works with almost all bottles with natural corks. It weighs 0.71lb and travels anywhere there is a wine party going. It comes in a gift box, great for your state of the art bar and for gift giving to wine lovers.