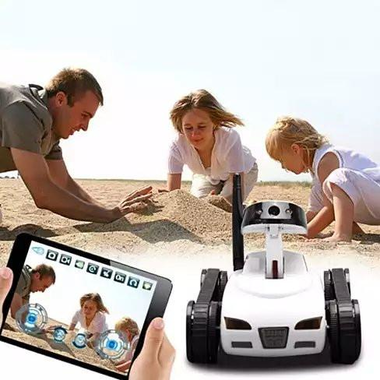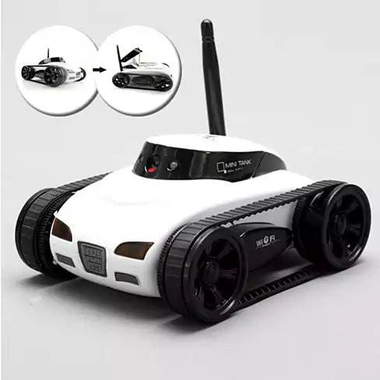 Description
All Mighty Toy Tank with Wireless Camera and Remote Control APP that lets you control your Mighty Spy Tank via your Smart Phone or tablet fully compatible to work with iPhone,iPad or any Android phone or Tablet. Makes a perfect Gift for kids 5 years and older. Features : APP entirely controls Remote Control Tank. Free App download and install required to use this toy. The app allows video and Photo mode, and it broadcast live video up to 150ft away indoors and 200 ft outdoors. WiFi connection required connecting the app with the Tank. No internet required. Tank camera can be raised or moved up and down from the App the Tank can be moved in any direction by the app. A perfect gift and hours fun for anyone.
SPECS: Product Name: MIGHTY TOY TANK With Camera Via A Wi-Fi Network Style: Radio Control Toy Remote Distance: About 30 M Control Mode:
Remote Control Charging Time:
120 Minutes Driving Time:
60 Minutes Control Channels:
4 Channels Product Categories:
Chariots Colour: White, Black Material: Plastic Power:
6*1.5V AA Battery Car Size: 24*19*12cm Power: Rechargeable Battery Controllable via your iPad, iPhone, this tank will follow your navigational instructions and stream video back to your handset via WIFI. You can chase your children around the backyard, search under your car for bombs and tracking devices, carry out top-secret surveillance on your pets in the middle of the night…. the tasks this tank can perform for the highly trained spies amongst us are endless.
This is THE ultimate present for wanna-be secret agents this year. Features: 4-direction remote controlled by iPhone, iPod touch, or iPad via a Wi-Fi network Super light and high speed Camera function (30 meters) Perfect gift for both adults and kids, perfect as a gift Note: 1. Please choose your color 2.Controlled by iPhone, iPad or Android System via a Wi-Fi network Package Included: 1 x RC SPY TANK w/ Rechargeable battery.
FREE APP DOWNLOAD from App Store or Google Play