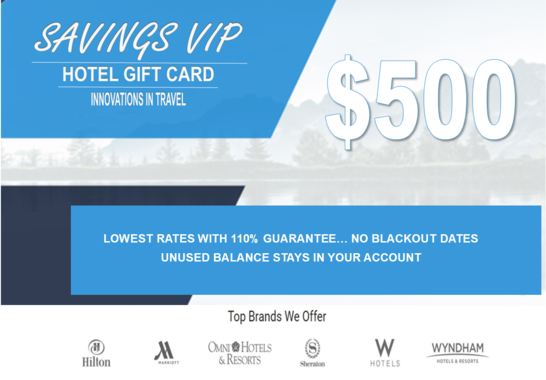 Description
We know that EVERYTHING is more expensive these days. Food. Gas. Airline tickets. EVERYTHING! Well, we are here to help. TAKE A FREE TEST RIDE WITH SAVINGS VIP "HOTEL SAVINGS CARD" CLICK HERE AND CLICK TEST DRIVE AS SHOWN. Save more than the cost of your card on your first booking! This is an easy decision! 110 % PRICE GUARANTEE, NO BLACK OUT DATES, 30-DAY MONEY BACK GUARANTEE, NO QUESTIONS ASKED… AND THE CARD CAN BE RELOADED. BUY AS MANY AS YOU WOULD LIKE FOR YOURSELF, FAMILY MEMBERS OR FRIENDS. IT'S A GREAT GIFT FOR ANY OCCASION.
NEED A HOTEL OR RESORT STAY… NO PROBLEM: WHAT TO EXPECT WHEN BOOKING A HOTEL STAY: The average savings per booking is approximately 30% off best rates. Example: A customer was travelling from Georgia to Texas after a visit with family. Decided to split the drive into two days, so they stopped in Jackson, Mississippi. The best rate available for a one-night stay at the Embassy Suites in Jackson was $181. The rate they secured with their Gift Card for Travel was only $120, so they saved $61. The savings used were deducted from their card, so they had $439 remaining on their $500 Gift Card for Travel to use toward future bookings! Wow, right?!
HOW TO DEDUCT YOUR SAVINGS… once you decide on the accommodation and ready to make your reservation. Just enter the dollar amount you would like deducted from your card on the Booking Page as shown circled in red below. Then you will go to the Payment Page where you will see the deduction made to the price of your accommodation.


HOW TO ACTIVATE YOUR "$500 HOTEL SAVINGS CARD" AFTER YOU PURCHASE…
1. Go to: https://www.savingsvip.com/app/login/
2. Click on "Have an Activation Code? Redeem Now" as shown in photo below
PLEASE ENTER YOUR REDEMPTION CODE… * DO NOT COPY AND PASTE the code in the form, it must be manually typed in. Make sure there are no spaces before and after the code when you type it in.
4. COMPLETE THE FORM THAT WILL APPEAR AS SHOWN BELOW…
5. AGREE TO THE TERMS AND CONDITIONS AND CLICK "AGREE".
6. ONCE YOU CLICK "AGREE" YOU'LL BE TAKEN TO THE HOME PAGE WHERE YOU CAN START PLANNING AND BOOKING YOUR NEXT VACATION. YOU'LL FIND YOU ACCOUNT PAGE BY CLICKING "MY ACCOUNT" IN UPPER RIGHT-HAND CORNER AS CIRCLED IN RED BELOW
7. ONCE ON YOUR ACCOUNT PAGE… CLICK ON "MEMBER PROFILE" AS CIRCLED IN RED BELOW…ID IS YOUR EMAIL ADDRESS YOU REGISTERED AND PASSWORD IS YOUR PHONE NUMBER UNTIL YOU CHANGE IT IN YOUR "MEMBER PROFILE".
PASSWORD CAN BE CHANGED AT THE BOTTOM OF MEMBER PROFILE PAGE AS SHOWN CIRCLED IN RED
WANT TO RELOAD YOUR CARD… EASY. JUST PURCHASE ANOTHER CARD AND GO TO YOUR ACCOUNT PAGE (WHICH CAN BE FOUND ON THE UPPER RIGHT-HAND CORNER OF HOME PAGE) AND CLICK ON HOTEL DOLLARS TRANSACTIONS … PUT IN A NEW HOTEL SAVINGS CODE IN THE BLANK " ADD HOTEL DOLLARS". JUST LIKE THAT… MORE HOTEL-SAVING DOLLARS ARE ADDED TO YOUR ACCOUNT… EASY PEASY .
110% PRICE GUARANTEE, NO BLACK OUT DATES, 30-DAY MONEY BACK GUARANTEE NO QUESTIONS ASKED
Global Solutions, LLC
162 S Peninsula Dr, Daytona Beach, FL 32118-4490