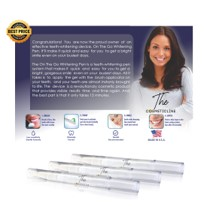 Description
Consider this situation: You're getting ready for a party, you've done your make-up, or you've groomed your face, and then you look at yourself and smile in the mirror. Everything about you looks perfect until you smile at yourself. At that moment, you may wish that you took out the time to go to the dentist and have your teeth whitened. But, in a busy schedule, that can be quite a challenge. Well, you don't need to worry about that any longer because the On The Go Whitening Pen device is a gamechanger.
✨ The On The Go Whitening Pen is a teeth-whitening pen system that makes it quick and easy for you to get a bright, gorgeous smile even on your busiest days. All it takes is to apply the gel with the brush applicator on your teeth, and your teeth are almost instantly brought to life. The device is a revolutionary cosmetic product that provides visible results time and time again. And the best part is that it only takes 15 minutes.
✨ So unlike other teeth-whitening systems, with which you have to wait for one to two weeks to see the results, this product allows you to get a bright set of teeth right at that moment. So, you have the perfect tool to bring a last-minute improvement to your already captivating smile.