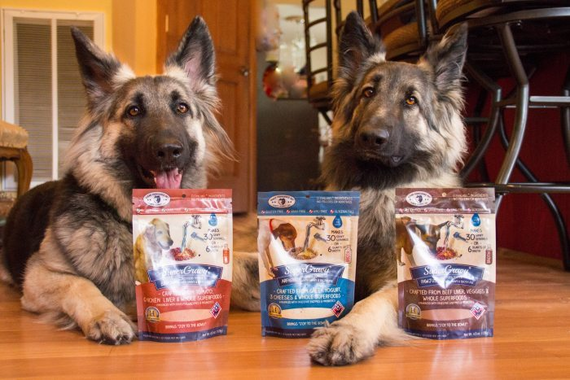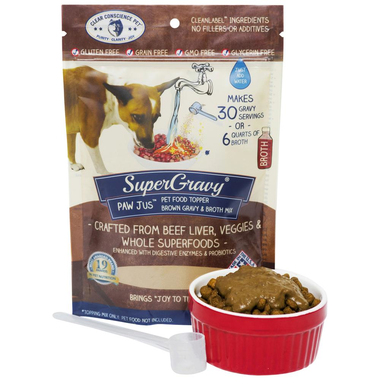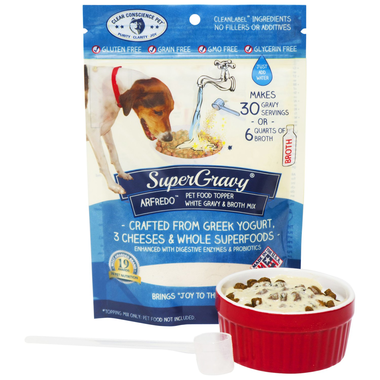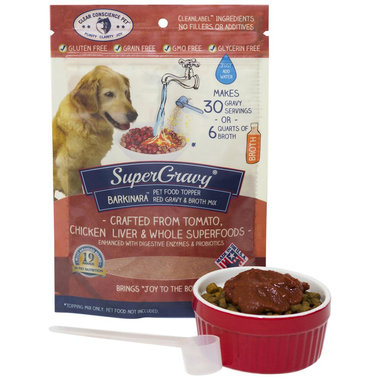 Description
The Most Awarded Dog Food Topper
100% guaranteed to bring JOY to the BOWL for every dog NOW Enhanced with digestive enzymes and probiotics for better digestion with every meal NOW formulated to make either delicious gravy by-the-bowl or yummy hydrating BROTH by the jug! STILL only 50 cents per gravy serving or $2.50 for a full quart of broth.
Supergravy is Easy to Use!
USE

SCOOP

provided (scoop=1.5 tsp/7.5 mil)

GRAVY

: 1 scoop add 1/2 cup of water (+/- to taste)

STIR

WELL

and serve; Warm water blends best

BROTH

: 5 scoops per qt./ltr. of water.

SHAKE

broth well before using.

ADD

BROTH

(8oz/250 ml +/-) and stir well.

REFRIGERATE

remaining finished broth.

WAIT

a few minutes before serving for full fusion of gravy with food.
WHY

Supergravy®?

We started Clear Conscience Pet to create PURE products that you can TRUST, made with limited SIMPLE ingredients. SuperGravy® solves the problem of picky eating pets by transforming hard dry food into a delicious moist meal. It blends better and costs far less than adding lumpy canned food to kibble. And you'll be the earth's best friend since SuperGravy generates far less waste than cans.
Who is it For?
ALL

DOGS

EATING

DRY

FOOD

will enjoy their food more and digest it better with SuperGravy®. Simple as that.

HELPS

STOP

PICKY

EATING

and boosts appetites impacted by Aging, Medications, Illness, Food Changes, Anxiety, or just "taste fatique."

USING

CANNED

FOOD

AS A

TOPPER

? SuperGravy® costs less per serving, blends better with kibble, and eliminates can waste.

USING

FREEZE

DRIED

? Hydrate with SuperGravy® and water!

USING

FROZEN

? add a scoop while thawing for "Amazing Taste!"

DOGS

LOVE

BROTH

! Don't wait for dinner; serve up some yummy broth as a 'tween meal hydrating boost!
Ingredients
Dried tomato, dried chicken liver, chia seed, sea kelp, dehydrated beets, dried sweet potato, dried pumpkin, dried porcini mushroom, sunflower lecithin, protease, amylase, lipase (digestive enzymes), Lactobacillus acidophilus (probiotic).
Guaranteed Analysis
Crude Protein (min) 20%
Crude Fat (min) 8%
Crude Fiber (max) 10%
Moisture (max) 15%
Calories (Calculated): 352 Kcal/100g | Approx. 15 cals. per 1.5 tsp gravy serving | Approx 20 cals. per 2 tsp broth serving (8 fl. oz. broth)