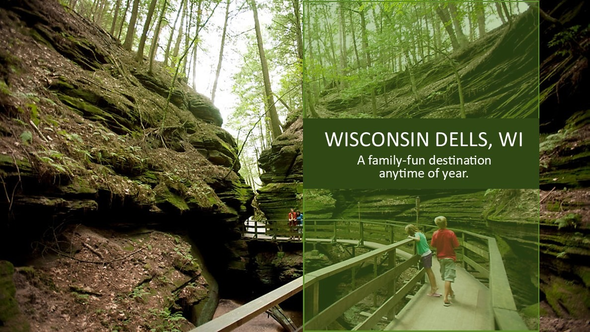 Description
WISCONSIN DELLS
4 DAYS AND 3 NIGHTS ACCOMMODATIONS
2 ADULTS AND UP TO 2 CHILDREN 17 YEARS OF AGE
In standard hotel accommodations such as
LaQuinta, Holiday Inn Express, Staybridge Suites, Springhill Suites or Fairfield Inn
Design your ideal getaway to Wisconsin Dells, Wisconsin… Lying along the banks of the Wisconsin River, Wisconsin Dells takes its name from the towering sandstone formations–or dells–that line the river's banks and were carved out during the last ice age. Whether frozen or in its liquid state, water continues to play a huge role in making Wisconsin Dells one of the most popular year-round vacation spots in the Midwest. Winter turns the Dells into a snowy playland, where skiing, snowboarding, skating and snow tubing are the big draws. In the summer, snow skis are traded in for water skis and jet skis, and the Wisconsin River and area lakes provide the perfect setting for an afternoon of fun in the sun. And as the "Waterpark Capital of the World," Wisconsin Dells offers year-round watery fun at over 20 indoor and outdoor water parks and entertainment centers where gnarly waterslides, looping tube rides, lazy rivers and wave pools thrill and delight kids of all ages.
But Wisconsin Dells is about more than waterparks. Golf is big up here, and enthusiasts will have a hard time choosing which championship course to tee off from. Outdoor activities range from boating and fishing to horseback riding and hiking at area parks. Challenge yourself to a zip line ride high among the treetops, or rent a kayak and explore the mysterious dells on the Wisconsin River. Cast a line and try your luck at catching and releasing a muskie, a popular game fish in these parts. Take in a live show in town, giggle all the way down on a snow tube ride, and reconnect with your inner child again.
OFFER AVAILABLE ONLINE ONLY.
CANNOT BE PURCHASED DIRECTLY WITH ANY HOTEL
THIS AMAZING PRICE INCLUDES 3 NIGHTS, THAT'S RIGHT NOT PER PERSON OR PER NIGHT
Book now before this offer is gone!
RESORT PREVIEW IS REQUIRED TO TAKE ADVANTAGE OF THIS OFFER.
PLEASE CLICK HERE TO READ FULL TERMS AND CONDITIONS FOR MORE DETAILS.
Global Solutions, LLC
162 S Peninsula Dr, Daytona Beach, FL 32118-4490